Welcome to the NERVO Wikia!

A collaborative online database dedicated to providing accurate and detailed information about the Australian female EDM duo, NERVO. Join the wiki now to help us grow!
About NERVO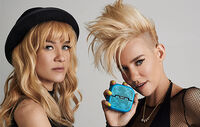 NERVO are an Australian electronic music duo from Ivanhoe, Melbourne, consisting of twin sisters Miriam Nervo and Olivia Nervo. They began their careers as models with the Australian Chadwick Models Agency, though they ultimately decided to pursue music when they were eighteen.

The duo's debut studio album, Collateral, was released in July 2015.
Poll
What are your thoughts on Collateral?